Yahoo Would Rather Not Pay Taxes on Its Alibaba Shares
Let's explore the mystical world of tax-free spin-offs together, shall we?
by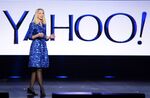 The basic contours of the Yahoo/Alibaba situation are well known. Yahoo owns Alibaba shares worth $40 billion. Those shares are in a glass box. They look so good, sitting there, in their box. Don't you want those shares? But be careful! If you break the box, then they stop being worth $40 billion. They become worth something like $24 billion. 1  
For a while, everyone assumed that Yahoo was letting uncoordinated children juggle the box blindfolded, because that just seems like something that Yahoo would do. So no one attributed $40 billion of value to the box, it is safe to say. But today Yahoo announced that it is going to very carefully hand the box over to its shareholders. This made the shareholders very happy, and the value they placed on the box increased by around $3 billion in a few hours. 2  
The glass box is, of course, made out of taxes. If Yahoo sells the Alibaba shares, it will owe $16 billion in taxes, leaving only $24 billion of value left. If it takes the shares out of the box to give to its shareholders, it will also owe $16 billion in taxes. It needs to hand the Alibaba shares to its shareholders while they are still encased in the box. The way it plans to do this is to give the shareholders shares of "a newly formed independent registered investment company ('SpinCo')," which will in turn own Yahoo's Alibaba shares. Yahoo's shareholders won't just get Alibaba shares and go on their merry way. They'll get SpinCo shares. Then what?
Well, then they'll own SpinCo. Probably it will have a better name. "Yahoo Alibaba Holdings" would be a straightforward name, or you could call it "Starboard SpinCo" in tribute to the activist investor who's been pushing for this. Or, I mean, this is an Internet company called "Yahoo!," probably it can come up with a silly name for SpinCo. Spinnr or something. 3  
Anyway, what is SpinCo? Well, first of all, it is a thing that will own the Alibaba shares, "as well as a legacy, ancillary Yahoo business." Imagine working for that "legacy, ancillary operating business"! It's not even named in Yahoo's presentation, which just calls it "ATB," for "active trade or business," a tax term of art. The tax-free spin-off rules involve a mystical series of incantations, including that the spin-off must be done for a "business purpose," and that the spun off company must be engaged in an "active trade or business." Just holding publicly traded stock doesn't count. 4
But an "active trade or business" is not the same as an important business, and Yahoo has no reason to put a big part of its business in SpinCo. One, because Yahoo wants to keep its important businesses, and, two, even more importantly, because Yahoo's shareholders don't want anything messy in SpinCo. They just want Alibaba shares. So cluttering up SpinCo with anything important would be a waste. The trick is to make Nameless ATB as small and meaningless as possible, while still persuading the Internal Revenue Service that it's meaningful enough to fulfill the ritual of the tax-free spin-off. 5  
True story about that ritual: John Malone's Liberty Interactive Corporation, which is very good at performing tax rituals, did a similar spin-off of its shares in TripAdvisor last year. The spinco there -- boringly named "Liberty TripAdvisor Holdings, Inc." -- owns a majority voting interest in TripAdvisor. It also, as required, owns an active trade or business. That business is BuySeasons, which "provides a unique party offering by giving individuals the resources necessary to plan, execute and attend a wide variety of celebrations and costuming events." It's an online costume business. It's Uber, but for Halloween costumes. Yahoo's Nameless ATB probably isn't any sillier than that. 6
OK, so now you own a box that has a lot of Alibaba shares and a silly ancillary business. What good does that do you? In the first instance ... not that much? Yahoo couldn't sell its Alibaba shares without a $16 billion tax bill. SpinCo can't sell them without the same tax bill. Why would you rather own them in the SpinCo box than in the Yahoo box?
One reason is that SpinCo will be less tempted to break open the box than Yahoo is. Yahoo has a business. It makes acquisitions. (It promises that the acquisitions are disciplined, but some people have their doubts.) Might it be tempted to sell the Alibaba shares, take the tax hit 7 and invest the proceeds in some harebrained scheme? It might. Managers like to manage stuff. SpinCo, which will do almost nothing except keep an eye on its Alibaba shares, will be considerably less tempted. (That's one reason it's important for Nameless ATB to be small and despised: to avoid the temptation to do anything with it.)
But that is squishy silly governance-theory stuff, and here is the real reason that the SpinCo box is a nicer box than the Yahoo box: because Alibaba can buy SpinCo. A while back I pointed out that Alibaba could buy Yahoo for free, because the Alibaba stock inside of Yahoo was worth more than Yahoo was. But that is an ugly deal, because then Alibaba owns Yahoo, and why would Alibaba want to own Yahoo?
But you know what Alibaba could really easily buy? SpinCo! It could buy SpinCo for $40 billion worth of Alibaba stock, get back $40 billion worth of Alibaba stock and clean up its capital structure without having to figure out what to do with the rest of Yahoo. (In this scenario, of course, Nameless ATB ends up in Alibaba or, more likely, in the garbage. Another reason to keep it small and despised!)
This is good for Alibaba, because it cleans up its capital structure and makes the stock more liquid. SpinCo will be a weird alternate publicly traded share class of Alibaba: When Yahoo spins it off, you'll be able to invest in Alibaba either directly or by buying SpinCo shares, which is confusing to shareholders and splits Alibaba liquidity among two vehicles. Collapsing SpinCo into Alibaba's main share class will be cleaner and neater and more shareholder-friendly than leaving it outstanding.
Now, remember that we're dealing with mystical incantations, so it's a bit more complicated than that. For the spin-off to remain tax-free to Yahoo, there can't be any prearranged agreement to sell SpinCo to Alibaba, and SpinCo will have to wait about a year before selling itself. 8  Until then, SpinCo ought to trade at a discount to Alibaba, since it's just Alibaba plus a tax liability. (And since it's smaller and weirder and presumably less liquid than Alibaba.) So Alibaba should be able to buy it at a discount to the underlying share value -- say, pay $38 or $39 billion worth of Alibaba stock for the $40 billion worth of Alibaba stock held by SpinCo. (Still a huge improvement over $24 billion!)
I don't know if that's the plan, but it would be sort of nuts if it isn't! 9 SpinCo is an utterly pointless beast. 10 It is a one-stock mutual fund. Wouldn't you rather have the stock? Yes, you would rather have the stock. Alibaba, similarly, would rather get rid of SpinCo -- a weird alternative vehicle confusing its investors and fragmenting its liquidity -- especially if it can do so at a discount. So everyone will be better off when Alibaba buys SpinCo. So you'd expect that to happen, as soon as it can.
Everyone's better off, that is, except ... you know. If Yahoo and SpinCo are saving $16 billion in taxes, that means that the IRS doesn't get $16 billion in taxes. That's how taxes work. 11  This is a tax dodge. That's fine! It's an open and transparent and well understood and perfectly legal tax dodge. In fact Yahoo expects to get "a favorable ruling from the Internal Revenue Service with respect to certain aspects of the transaction and a legal opinion with respect to the tax-free treatment of the transaction." Yahoo isn't hiding anything. It's asking the IRS for its blessing.
And it's not even pretending that this is something other than a tax trade. It doesn't have to! A tax-free spin-off requires Yahoo to recite certain magic incantations -- "business purpose," "active trade or business" -- in the right order and with the right pronunciation. But it doesn't have to mean them. The incantations, on their own, are enough to work the magic.
To contact the author on this story:
Matt Levine at mlevine51@bloomberg.net
To contact the editor on this story:
Zara Kessler at zkessler@bloomberg.net
Before it's here, it's on the Bloomberg Terminal.
LEARN MORE