Why Europe Will Cave to Greece
Greece and the EU need to drop their ridiculous all-or-nothing positioning and get on with negotiating sensible debt relief.
by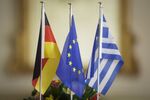 A prediction for you: Greece and the European Union will split the difference in their quarrel over debt relief. What's uncertain is how their respective governments will justify the new deal, and how much damage they'll inflict on each other before accepting the inevitable.