view
Stop Calling Him President Clinton
When politicians leave office, they keep their titles. Who will challenge this obsequious tradition?
by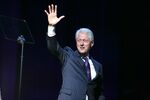 Jaime Fuller at the Fix wonders what to call Bill Clinton if Hillary Clinton becomes president. First Gentleman? First Dude? First Bill?
I don't care. But it gives the Big Dog a chance to make a small contribution to American democracy by relinquishing the title he should no longer use: "President."
As the saying goes, a democracy has no higher title than "citizen." Yet our politicians get to keep calling themselves senator, mayor, governor or whatever other office they once achieved for the rest of their lives. It doesn't sit right. Especially when it comes to former presidents, who already get so many perks from their exalted non-office.  
Unfortunately, it's hard to give up this tradition. If a former president refuses the title, it might shame the others into going along. Yet no former president is likely to do it. They expect the respect!
That's especially likely to be true if the president was defeated (such as Jimmy Carter and George H.W. Bush) or left office deeply unpopular (such as George W. Bush). Clinging to the title may help them feel like "real" presidents in a sense, no matter what the electorate thinks. 
Bill Clinton, at this point, is as good a candidate as any. He seems to have outlasted his own scandals, and has been a very popular and good ex-president.  He should no longer need to be called "Mr. President" to feel he has people's respect. 
This isn't a make-or-break issue for the republic, but I'm for doing all we can to reduce the monarchical place of the presidency in the political culture. C'mon, Bill: Ask us to call you Mr. Clinton.
To contact the author on this story:
Jonathan Bernstein at jbernstein62@bloomberg.net
To contact the editor on this story:
Katherine Roberts at kroberts29@bloomberg.net
Before it's here, it's on the Bloomberg Terminal.
LEARN MORE