Putin's Bailout Plan For Potemkin Banks
Russia's economic crisis plan centers on saving the banking system.
by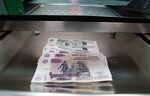 Oil is down 57 percent from last year's high, the ruble is approaching its catastrophic December low, and Standard & Poor's has just relegated Russian debt to junk status -- but the Russian government has a plan. Or, rather, it has a document it calls a plan. It follows that the only aspect of Russia's present situation of which the government has a more or less specific understanding is the country's approaching banking crisis. And the public won't be told about the full extent of that crisis, either.
The "Plan of Immediate Measures to Ensure Sustainable Economic Development and Social Stability in 2015", signed last night by Prime Minister Dmitri Medvedev, is based on a 10 percent budget sequester that will "primarily exclude inefficient expenditure." Putting aside the question why the Russian budget had them in the first place, this is not a big concession to a crisis that is predicted to shave 5 percent off Russia's gross domestic product this year. The cut will not affect social spending, foreign debt servicing, agricultural subsidies or defense allocations. Non-essential investment projects and the funding of government bodies will be the first to tighten their belts. The Russian propaganda machine has already been affected.
S&P predicted in its note explaining the debt downgrade that the Russian economy will expand by an average of 0.5 percent in 2015-2018, but the Russian government appears to consider that overoptimistic: In the next three years, the government plans to reduce spending by at least 5 percent annually. The goal is a balanced budget by 2017, no matter what happens to the oil price. 
Most of the money saved from these cuts will be combined with existing reserves to form a 2.3 trillion ($34 billion) ruble anti-crisis fund -- 1.56 trillion ($23 billion) of which will be devoted to propping up the Russian banking system. The huge allocation to bank recapitalization explains why veteran bank supervisor Dmitri Tulin has been brought back to the central bank. Though his role is nominally to sort out monetary policy, his main job is likely to be tending to banks hurt by abnormally high interest rates (as of this writing, the MosPrime overnight interbank rate for large banks stood at 17.57 percent), foreign exchange headwinds and a downward trend in clients' well-being. In December, Russians saw the first reduction in their real incomes since 2000, and, at 7.3 percent year-on-year, it was painfully steep.
As part of the cure, the government suggests a measure it avoided during the 2008-2009 financial crisis: The creation of a "bad bank". Its size is yet to be determined, but it will probably have to be flexible for now. It's not clear how badly the unfolding crisis will hit the banking sector. S&P warns that it won't be possible to divine from the banks' disclosures. The Russian central bank has allowed financial institutions to apply favorable exchange rates and "flexible provisioning policies" on their balance sheets to avoid showing disastrous asset deterioration. That's a signal to investors to throw official statistics out the window.
On Jan. 1, according to the Central Bank, the Russian banking system had 77.66 trillion rubles ($1.15 trillion) in assets, 8 percent more than a month earlier, and only 3.94 trillion rubles in bad debts -- 4 percent more than on December 1, 2014. That would suggest healthy growth. But at the same time, the amount of loans granted to banks by the central bank increased by 37.7 percent to 9.3 trillion rubles, apparently covering a growing capital shortfall.
With the statistics difficult to trust, let alone analyze, one has to assume the government's 1.56 trillion ruble estimate of the necessary bailout is based on insider knowledge. The allocations, however, may well be increased as the year progresses: The government still doesn't have an oil price forecast to use for mapping out possible scenarios. (For what it's worth, S&P predicts an average price of Brent crude of $55 per barrel in 2015 -- a level no Russian bank would have imagined in its worst nightmares even three months ago.)
Yesterday, Medvedev reacted to persistent rumors that the next round of Ukraine-related economic sanctions will see Russia excluded from SWIFT, the international financial messaging system that enables quick money transfers between banks. "Our economic reaction, and generally reaction of any kind, will know no limits," he is said to have blustered. But clearly, with the government so focused on saving the Russian banking system, this kind of major disruption would be the last thing it needs. It would throw all the bailout plans into disarray, forcing banks to scramble in search of alternative transfer methods and losing them untold amounts of business in the process. 
Barring that, however, the Russian government appears to be hoping that, if the country manages to shore up its banking system, the crisis will eventually blow over. That's why the anti-crisis plan includes increased support for the country's defense industry, including compensation of its foreign exchange losses. It also bumps up agricultural subsidies and offers potential for reducing taxes on small business. 
Russia, in other words, is doing little more than praying that its economy won't nosedive this year as it continues indulging President Vladimir Putin's geopolitical ambitions. The government appears to be operating in fatalistic mode, hoping for the best and preparing to react to the worst as it comes. Everybody who has a stake in Russia's economic well-being should expect the country to turn into more of a statistical black box: Fatalism is hard to maintain if you're not, to some degree, in denial about how bad things are. For now, the banking sector is the one to watch: this will be a big year for bailouts and bankruptcies.
This column does not necessarily reflect the opinion of Bloomberg View's editorial board or Bloomberg LP, its owners and investors.