A Non-Nuclear Option for Supreme Court Nominations
More than a Senate majority should be required to approve Supreme Court nominees and other federal judges.
by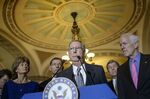 Almost a month into the 114th Senate, the new Republican majority still doesn't know what to do about filibusters of judicial nominations. The latest? An idea floated recently to eliminate filibusters on Supreme Court nominations (or, technically, to change cloture to a simple majority) seems to be DOA.