Saudis Say Michelle Obama Not Blurred on TV
New Saudi King Salman shook hands with President Obama but didn't acknowledge the first lady during a brief meeting at the funeral for King Abdullah.
by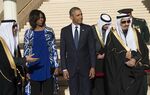 A small furor has erupted over whether a Saudi television station blurred out the image of U.S. first lady Michelle Obama in the broadcast of her and President Barack Obama's meeting with new Saudi King Salman on Tuesday in Riyadh. Saudi officials deny the claim.
The new king shook hands with President Obama at the Erga Palace but didn't acknowledge the first lady during a brief meeting at the funeral for King Abdullah. Barack and Michelle Obama cut short their trip to India to attend the funeral.  
Several videos posted on Saudis' Facebook pages obscured Michelle Obama's face. They were removed shortly after they were posted. I captured a screenshot of one such video before it was taken down. The Arab news service Mashahead posted on YouTube a video allegedly taken from the Saudi government television broadcast showing the blurred spot.
However,  Nail al-Jubeir, information director at the Saudi Embassy in Washington, e-mailed me that "Saudi TV has been showing the total arrival ceremony at the airport and at the Palace and nowhere is anything blurred." CNN's Hala Gorani tweeted that her colleague Nic Robertson, in Riyadh, saw non-blurred images on Saudi TV. Other news organizations, such as Al Jazeera, showed the meeting without obscuring Michelle Obama's face.
The alleged blurring wasn't the only controversy.  Some Arab media outlets criticized Michelle Obama for wearing a blue dress, rather than a black one. Videos of the short meeting between Salman and President Obama showed the king leaving in the middle of the protocol, abruptly turning around and walking away, in order to go to prayer.
After the meeting, Barack Obama and Salman held a bilateral meeting that included Secretary of State John Kerry, Senator John McCain, National Security Adviser Susan Rice, Ambassador Joseph Westphal and CIA Director John Brennan.
According to the White House pool report, "Obama and Salman sat in gold chairs. A small table in front of them held a spray of white flowers."
Obama praised the late king in a statement following his death, saying "King Abdullah's vision was dedicated to the education of his people and to greater engagement with the world." In an interview with CNN before the visit, Obama explained why he was hesitant to press the new king about Saudi Arabia's human rights record, which includes restricting the rights of women.
"Sometimes we have to balance our need to speak to them about human rights issues with immediate concerns that we have in terms of countering terrorism or dealing with regional stability," Obama said.
This column does not necessarily reflect the opinion of Bloomberg View's editorial board or Bloomberg LP, its owners and investors.