Three Lessons From Islamic State's Retreat
Kurdish forces have retaken the town of Kobani, demonstrating the value of ground troops in Syria and Iraq.
by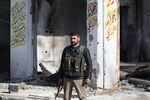 Syrian and Iraqi Kurdish forces say that, with the help of three months of U.S. airstrikes, they've retaken the town of Kobani on the Syria-Turkey border from Islamic State. This success doesn't change the basic strategic calculus of the war on the insurgent group: The fight for Kobani was always more about symbolism than military advantage. But the victory, if you can call it that, carries three lessons about how the conflict with Islamic State is going -- and how it can and cannot be affected by the use of force.