Barbie Isn't Dead Yet
Barbie had a sales slump, but she isn't going anywhere.
by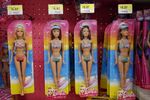 Mattel Chief Executive Officer Bryan Stockton resigned yesterday after a five-quarter sales slump and three years of flagging sales of the company's best-known brand, Barbie. It is, however, definitely not the end of the Barbie phenomenon, or, at any rate, of what Barbie stands for: an unattainable ideal of princess-like femininity that is all about looks, not brains. I would know -- I have a 4-year-old daughter.