Cutting Islamic State's Purse Strings
Islamic State finds extortion more profitable than oil.
by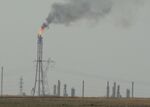 In an interview last week, David Cohen, the U.S. Treasury Department's under secretary for terrorism and financial intelligence, said that U.S. officials believe that Islamic State's illicit oil sales have been reduced from about $1 million a day to a couple million dollars a week. Cohen credited the U.S. bombing campaign against Islamic State along with efforts by several neighbors, including Turkey and Kurdistan, to undermine Islamic State's capacities in the region.
While acknowledging "a fair amount of fuzziness" in any estimates, Cohen said Islamic State is getting less revenue from oil sales than from extortion, including kidnapping ransoms and shaking down banks and other businesses. (Extortion, he said, is harder to stop.)
Cohen expressed frustration that other countries -- he declined to name them -- are still paying ransoms for hostages, a practice that he said only encourages more hostage taking. He praised the U.K. for steadfastly joining the U.S. in refusing to pay ransoms. "The Brits are stalwart partners," he said.
Islamic State holds large swaths of territory in Iraq and Syria and needs resources to provide public services previously provided by those governments. "If they are unable to keep the water on, keep the electricity on, pick up the trash and meet basic needs, that undercuts their narrative that they are a legitimate governing entity," Cohen said. Based on anecdotal evidence and other reports, Cohen suggested, "They are failing at this."
Cohen, who is set to become deputy director of the Central Intelligence Agency next month, said drying up funds to the Islamic State remains a difficult challenge. Islamic State, he said, has been "less dependent on foreign contributions than the traditional Al-Qaeda model." Denying Islamic State access to such contributions remains a key goal of the U.S.
This column does not necessarily reflect the opinion of Bloomberg View's editorial board or Bloomberg LP, its owners and investors.
To contact the author on this story:
Albert R. Hunt at ahunt1@bloomberg.net
To contact the editor on this story:
Francis Wilkinson at fwilkinson1@bloomberg.net
Before it's here, it's on the Bloomberg Terminal.
LEARN MORE