Syriza, Le Pen and the Power of Big Ideas
Europe's mainstream parties have become indistinguishable, leading to the rise of radicals like Syriza.
by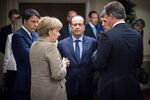 It may seem ironic that Marine Le Pen, the leader of France's extreme right Front National, rooted for the extreme left Syriza in yesterday's Greek election and rejoiced at its landslide victory. Yet there's nothing unusual about it: Syriza, Front National and other European anti-establishment parties are partners in a political revolution that appears to be about to sweep the continent, giving back the original meaning to political terms such as "left" and "right" -- and helping Russian President Vladimir Putin in the process.