Greek Growth Drought Is Real Threat to EU
The state of the euro region's economy, not the electoral twitching of the Greek electorate, should motivate EU leaders to recalibrate their policies.
by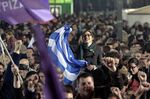 So Greece has elected a new anti-austerity government and, as of this writing at least, the nation remains in the euro, financial markets are calm, and the world continues to revolve around the sun. Now comes the hard part.