Steve King Won't Be GOP's Sister Souljah
At some point the GOP will pull out of its ideological tailspin. Just not yet.
by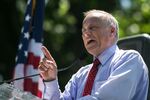 Republican Representative Steve King is trying to do for his party's aspiring presidential field what he's already done for its congressional wing: cover it in the neon hues of his own blazing intolerance.