Nothing Is Going to Save the Housing Market
The U.S. effort to revive housing can't overcome the economic headwinds working against it.
by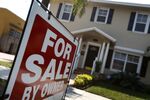 U.S. housing activity remains weak despite six years of federal government aid, strong interest from overseas buyers, rock-bottom interest rates and massive purchases of mortgage bonds by the Federal Reserve. Does this mean housing may never spring back to its pre-recession levels? Many signs point to yes.