Thailand Needs to Fight a Different Battle
Eight months after the coup, the economy is faltering.
by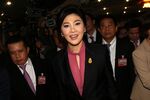 Last May, the generals who grabbed power in Bangkok pulled off a PR coup as well: Their takeover cheered investors. While little good had come from 11 previous coups since the 1930s, this one seemed different. Junta-leader-turned-prime minister Prayuth Chan-Ocha proclaimed Thailand open for business and surrounded himself with experienced technocrats, promising to spur growth, attack corruption and "return happiness to the people."