Israeli Mossad Goes Rogue, Warns U.S. on Iran Sanctions
Israeli intelligence wants Congress to stay out of the Iran talks. Netanyahu disagrees.
by and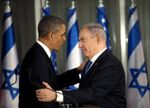 The Israeli intelligence agency Mossad has broken ranks with Prime Minister Benjamin Netanyahu, telling U.S. officials and lawmakers that a new Iran sanctions bill in the U.S. Congress would tank the Iran nuclear negotiations.