Modi Needs to Be a Generous Host
The U.S. president is going to India. His host should provide the gifts.
by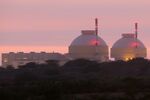 In all the talk of "deliverables" that might come out of President Obama's trip to India this weekend, two areas would seem like no-brainers. Both countries stand to benefit greatly from greater cooperation in civil nuclear power and defense technology, unlike other areas where very real conflicts remain. The U.S. is home to manufacturers of cutting-edge nuclear technology and military equipment, which are eager for new markets abroad. India is starved for power and almost entirely dependent on imports for military equipment. It's desperate for quality suppliers.