Housing's Feeble Recovery Is Here to Stay
The U.S. housing market may never return to boom times, despite government aid programs and low interest rates.
by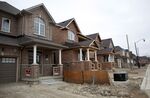 Has the long-awaited U.S. housing boom finally arrived? You would think so, judging from statistics so far this month. But don't hold your breath.