Goldman Sachs Actually Read the Volcker Rule
Why would it make sense to let banks hold 100 percent of a thing, but not 99 percent?
by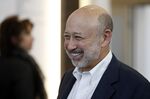 Okay here's a chart of how the Volcker Rule works:

That chart is nonsense, which is partly my fault -- don't go trade on it or anything -- but mostly the fault of the Volcker Rule. Basically, if you're a bank, you can buy assets using your own money -- "proprietary" trading or investing -- if you either plan to hold them for more than 60 days, or plan to get rid of them quickly to satisfy "reasonably expected near term demands of clients, customers or counterparties." But you can't buy assets using a fund that contains some of your money and some of your customers' money -- that's a "hedge fund" or a "private equity fund." Unless no more than 3 percent of the money in the fund is yours. Then you're fine. 1
The chart is weird and stripey but don't complain to me about it, I just made the chart, not the rule.
I've talked about Goldman Sachs's Volckerishness before, because it delights me. 2  And it continues to delight. Here is a story about how "Goldman has been quietly coming up with several new ways to put its own money to work in formats that appear to stay on the right side of Volcker," which is very easy to understand if you just keep that chart in front of you. Goldman is investing its own money, not clients' funds, so it's at the top of the chart. And it's buying things like "apartments in Spain, a mall in Utah and a European ink company, all of which the bank hopes eventually to sell for a profit," but not (one assumes) within 60 days, so it's toward the right of the chart. Top right is green. Good to go.
That is the whole analysis, but obviously you can complicate it further if you want. I mean, that chart is ludicrous, which annoys the people who ... well ... who made the chart:
Goldman's merchant banking business is upsetting some regulators, who worry that such investments do not follow the spirit of the law, which aims to reduce concentrated risks at banks, according to people at three regulatory agencies, who were not authorized to speak publicly.
GUYS YOU WROTE THE RULE. There is no "spirit"! If the Volcker Rule "aims to reduce concentrated risks at banks," then those green bits of the chart are a map of where it misses its aim. 3  It seems odd to get upset at Goldman for that.
There are arguments for turning the top right of the chart red, and arguments for leaving it green. 4  The best argument for change is probably just the patchy appearance of that chart: Why would it make sense to let banks hold 100 percent of a thing, but not 99 percent? If private equity is too risky for banks, why would increasing their exposure to it make them less risky? 5  That's not necessarily an argument for banning merchant banking. It could be an argument against prohibiting bank-run private equity funds. Something about that boundary doesn't look right though.
The real joy in the story, though, comes when Goldman leaves the map behind. Notice what happened here:
In the second half of 2014, Goldman spent about $800 million with two partners for 144 hotels in Britain, and $200 million with two different partners on the South Towne Center mall in Sandy, Utah, among other large investments.
That's not just Goldman investing its own money in hotels and malls. That's Goldman investing a mix of its own money and its "partners'" money in hotels and malls. That ... I mean, if you just dumbly look at my chart, that looks like the big red middle zone. Goldman doesn't own 100 percent of those malls or hotels, though I bet it owns more than 3 percent.
But it's fine. Goldman doesn't actually have to own 100 percent of the businesses it invests in. It can partner up with other people to buy those businesses. It just can't invest anyone else's money. It can't sign clients up for a fund, and then decide how to invest the fund. But it can decide how to invest its own money, and then sign clients up to invest alongside it.
That's kind of a tricky distinction, isn't it? You can't quite re-create a private equity fund that way, but you can get close. You invest some money, your clients invest some money, you share the risks and the upside, you get paid for putting the deal together. (Presumably Goldman's "partners" in those deals aren't paying private-equity-like fees, but there's no rule against Goldman getting better economics for sourcing or structuring deals. 6 ) You have to put a new joint venture together for every deal, instead of having one big fund with one set of partners, and you're limited in the number of partners you can bring into any deal. In some ways this is nice -- you get to pick and choose the right partners for each deal, instead of investing everyone's money indiscriminately -- though it lacks the long-term committed capital, and recurring fees, of a true private equity fund. But if you do it enough, it does sort of start to look like a private equity business.
The Volcker Rule recognizes this: One key factor in distinguishing an allowable "joint venture" from a banned "private equity fund" is whether or not the thing holds itself out as being a private equity fund. 7  Which makes sense. You can't draw the distinction between what's allowed by the Volcker Rule, and what isn't, on substance. The substance of the rule is in that chart, which just isn't very substantial. Technicalities are really all you have to go on.
To contact the author on this story:
Matt Levine at mlevine51@bloomberg.net
To contact the editor on this story:
Zara Kessler at zkessler@bloomberg.net
Before it's here, it's on the Bloomberg Terminal.
LEARN MORE