Draghi's Gonna Have a Bad Day at the Office
A bad day at the office awaits European Central Bank President Mario Draghi.
by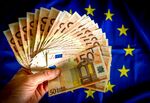 European Central Bank President Mario Draghi is, to borrow a phrase from the world of sport, on a hiding to nothing. No matter what monetary policy initiative he announces after today's meeting, he'll be vilified.
If he has persuaded the Bundesbank that he needs to spend 50 billion euros ($58 billion) a month until December 2016 to buy government bonds -- expanding the central bank's balance sheet by twice what most economists expected -- he'll still be accused of doing too little, too late. If that proposal gets watered down in the debate among policy makers, he'll be crucified by bond investors.
Draghi today will announce plans to spend as much as 1.1 trillion euros through 2016, Bloomberg News reported yesterday. That's enough to make a chart of the balance sheet march from the bottom left to the top right: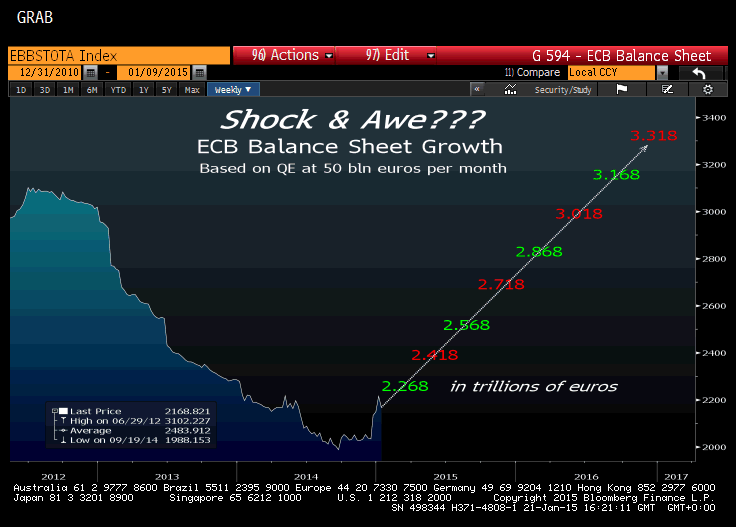 Bond yields rose on the news, suggesting investors expected a bigger move from Draghi no matter what the economists were predicting. Analysts at Societe Generale, for example, reckon the stimulus needs to be as much as 3 trillion euros to stand a chance of getting inflation back to the central bank's 2 percent target.
A better solution might have been to leave the program open-ended, with Draghi repeating his "whatever it takes" mantra. That would count as the kind of shock-and-awe that would win plaudits from the QE crowd. Talking Germany into an infinite commitment, however, was always going to be an impossible task.
Draghi still has to negotiate the tricky issue of buying government bonds at the negative yields currently prevailing across much of the euro zone. Paying for the privilege of storing money in, say, a three-year French bond effectively locks in a capital loss if you get back less than you paid. A lawyer could argue that that constitutes "monetary financing" of governments, which is forbidden by the monetary union treaty. Draghi has already seen off one legal challenge to his power to buy bonds; that fight may be rekindled in the near future.
Politicians,  meanwhile, have been piling on the pressure, leaving the ECB's independence looking diminished. On Monday, French President Francois Hollande pre-empted the central bank announcement, telling business leaders that "on Thursday, the ECB will take the decision to buy sovereign debt, which will provide significant liquidity to the European economy and create a movement that is favorable to growth."
On Tuesday, Slovakia's deputy finance minister Vazil Husak revealed that the bond program will encompass international institutions including the European Investment Bank, and urged that while Cyprus should be included, Greece should be assessed only after its weekend election. And on Wednesday, Italian Prime Minister twinned his "respect" for the ECB's autonomy with a demand that the institution should signal a new economic direction to give "hope" to the euro region.
Draghi has had a pretty good term of office since taking the ECB helm in November 2011. But battling with the Bundesbank at every turn must get tiresome, as does lamenting the failure of euro-region governments to bear their share of the burden of resuscitating growth. Even though he says he doesn't want the job, the Italian presidential vacancy must look mighty appealing. 
This column does not necessarily reflect the opinion of Bloomberg View's editorial board or Bloomberg LP, its owners and investors.