Obama's Disdain Kills Tax Reform
The "angel of death" tax loophole should be closed. Obama just made that harder.
by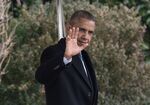 Many of the tax proposals in the White House plan released this week make good sense -- and you don't need to be a liberal to think so. President Barack Obama could easily have pitched them in a way that appealed to fiscal conservatives. He pitched them, instead, in a way that can only have been calculated to offend the opposition.