Obama Tries to Out-Putin Putin
Every sentence about Russia in President Barack Obama's State of the Union speech is a stretch.
by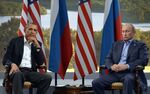 According to his State of the Union address, U.S. President Barack Obama has solved the Russia problem. His brief passage on the subject shows he's either blind to the dangers of the deteriorating relationship between Moscow and the West or merely too quick to take credit for a victory that is not even on the horizon.
Here's what Obama had to say about the biggest threat to European stability since the fall of the Berlin wall 25 years ago:
We're upholding the principle that bigger nations can't bully the small -- by opposing Russian aggression, supporting Ukraine's democracy and reassuring our NATO allies. Last year, as we were doing the hard work of imposing sanctions along with our allies, some suggested that Mr. Putin's aggression was a masterful display of strategy and strength. Well, today, it is America that stands strong and united with our allies, while Russia is isolated, with its economy in tatters. That's how America leads -- not with bluster, but with persistent, steady resolve.
Every one of these sentences is, to put it mildly, a stretch.
The U.S. has indeed disapproved of Russian aggression in Ukraine, and loudly enough for everyone to hear. But that doesn't mean it has supported Ukraine's democracy. 
Ukraine has long asked the West for help in tracking down the money and assets amassed by its former corrupt rulers. Last year, the U.S. Federal Bureau of Investigation and U.S. Treasury even set up a task force to assist that effort. But nothing has been heard since. In the meantime, U.S. Vice President Joe Biden's son Hunter has been hired as the top lawyer for Burisma, Ukraine's biggest independent natural gas producer, which is owned by former ecology minister Mykolai Zlochevsky, whom Ukrainian prosecutors seek for corruption-related crimes. Biden Senior takes regular trips to Kiev to talk up democracy and reforms and to condemn Russia, while his son's boss is probably hiding out in Moscow like most other close allies of former President Viktor Yanukovych.
The U.S. government has also offered financial help for Ukrainian democracy -- $1 billion in loan guarantees last year and $1 billion in the first half of this year (and perhaps another billion at some later date). But it's a tiny fraction of the $15 billion shortfall Ukraine faces this year, and that's assuming the International Monetary Fund continues disbursing its $17 billion aid package as planned. The European Union has committed more funds to Ukraine: This year alone, Brussels has promised 1.8 billion euros ($2.1 billion) in loan guarantees, while Germany kicked in 500 million euros on its own.
As for reassurance to NATO allies, the U.S. has told the Baltic states that NATO would come to their rescue in the event of Russian aggression. Obama even traveled to Tallinn, Estonia, where he promised that the U.S. will defend the small countries' territorial integrity. The Balts don't seem particularly reassured, however. Lithuania has recently put out an emergency response manual on what citizens should do if Russia invades, which includes advice on what to do if foreign soldiers show up at your home and how to organize civil disobedience.
Obama's description of sanctions as "hard work" on the part of the U.S. is laughable. In the first 11 months of 2014, U.S. exports to Russia actually increased to $10.22 billion from $10.18 billion from the same period the previous year. U.S. imports from Russia decreased to $21.97 billion from $25.49 billion, a change of just $3.5 billion. America's European partners have suffered all the pain. In the first eight months of 2014, they lost $8.5 billion in exports to Russia and $7.5 billion in imports from Russia, and that was before the more serious sanctions hit. 
Whether or not the sanctions have worked is arguable. They certainly angered Russian President Vladimir Putin and made him dole out ever more generous government support to his cronies' businesses. (One of the insiders, Arkady Rotenberg, will now build a $3.5 billion bridge from Russia to occupied Crimea.) And sanctions have made it all but impossible for Russian entities to borrow in the West, causing Russia's external debt to shrink to $599.5 billion from $728.9 billion at the beginning of last year. In the medium term, this might just make Russia more resilient to external shocks.
Yet Sanctions have also united Russians around Putin, whose approval rating is still above 80 percent. At this point, 57 percent of Russians believe their country should ignore Western criticism, according to a Levada Center poll taken in late December, up from 38 percent in 2007. The share of those who believe the West is hostile toward Russia has increased to 43 percent, from 24 percent in 2007.
The sanctions certainly have not ripped the Russian economy to "tatters." The European Bank for Reconstruction and Development says the Russian economy may shrink by 5 percent in 2015, but according to Piroska Nagy, EBRD's director of country strategy and policy, "The single most important factor here is the huge drop in oil." The U.S. has caused the oil-price drop only indirectly, in that its shale-oil producers are the target of Saudi Arabia's price war. Russia's losses are collateral damage.
As for Russia's isolation, vodka is flowing at Russian state company parties at the World Economic Forum in Davos. The forum's founder, Klaus Schwab, made a rare appearance at one to tell his "Russian friends" they were welcome in Davos. Some former Western partners will probably shun the 73-strong Russian delegation, but "isolation" is certainly not what it's experiencing at the posh Swiss resort.
Ukrainian President Petro Poroshenko, however, won't be seen there frowning at Russian excess. He had to fly home ahead of schedule, because fighting in eastern Ukraine has resumed in earnest, and his government says Russian troops are involved. When a cessation of hostilities is discussed in Berlin today, no U.S. representative will be there; the foreign ministers of Germany and France will mediate between their Russian and Ukrainian colleagues. The search for a diplomatic solution, like the economic hardship, has fallen to America's European allies. Despite U.S. willingness to let Russia get away with its Crimea land grab if it steps back from eastern Ukraine -- hardly a strong defense of Ukraine's territorial integrity -- all U.S. diplomatic efforts have failed.
"That's how America leads," Obama said proudly. It's more comforting to think he's faking that pride than to imagine he really doesn't understand how ineffective the U.S. has been in Ukraine. The president would have done better not to talk about Russia and Ukraine at all.
This column does not necessarily reflect the opinion of Bloomberg View's editorial board or Bloomberg LP, its owners and investors.