Obama Disses His Indian Hosts
Obama missed a great chance to sell Americans on the U.S.-India partnership.
by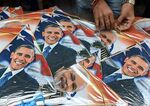 Bemoaning the president's failure to mention a subject or country in the State of the Union address is an old Washington parlor game. And as an ex-presidential speechwriter, I know how easy it is for something or somewhere to end up on the cutting-room floor.