Will Obama Go Nuclear?
A slew of new companies are looking to develop next-generation nuclear power technology. They need federal government help to succeed.
by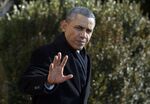 Nuclear energy is suddenly fashionable -- as new companies are looking to supplant the world's large, uranium-fueled nuclear reactors with kinds that use different fuels and coolants or perhaps even replace fission with fusion.