The State of the Union Is Timid
Obama's speech is billed as a bold plan for the middle class. What it really shows is the narrow range of mainstream policy ideas.
by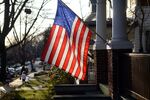 You could look at President Barack Obama's proposals in tonight's State of the Union speech as a bold set of prescriptions for a new Democratic agenda. Here's another interpretation: Those prescriptions mostly demonstrate the timidity of the ideas that Democrats are willing to offer.