The Oscars, 'Selma' and Diversity
It's silly to appraise the entire industry through a star-studded filter.
by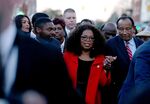 At the Golden Globes last week, diversity was integral to Hollywood's self-celebration. Hispanic actress Gina Rodriguez won for her performance on the loosely telenovela-based "Jane the Virgin." Jeffrey Tambor prevailed for his depiction of a transgender woman on Amazon's "Transparent," which also took home the award for "Best TV Series, Musical or Comedy." Gay actor Matt Bomer won for his role as a gay reporter in an HBO movie "The Normal Heart," about the AIDs epidemic.
"The Golden Globes made an important statement about diversity on television," declared Vox. "Diversity was the big winner at the Golden Globes," announced Quartz. "Many Golden Globes Acceptance Speeches Focused On Social Justice, Not Self-Congratulations," cheered Buzzfeed.
Then came Thursday. A mere three-and-a-half days later, Oscar nominations were announced. All of the performances cited were by white actors and actresses. All of the directors and screenwriters nominated were male. The film "Selma" was effectively snubbed: Ava DuVernay, who many had expected to become the first black female director nominated, was shut out, as was David Oyelowo, who powerfully portrays Martin Luther King Jr. in the film. 
The peanut gallery -- Twitter -- wasn't pleased: The #OscarsSoWhite hashtag trended in the U.S. In a statement Thursday, Al Sharpton "called an emergency meeting early next week in Hollywood," in order "to discuss possible action." Over the weekend, New York Times media columnist David Carr told readers that, yes, the "Selma" snub matters.
Do the 2015 Oscars matter more than the 2014 awards? Last year "12 Years a Slave," won best picture and black actress Lupita Nyong'o won the best supporting actress prize for her role in it. Meanwhile, as this year's Globes showed, some noteworthy work featuring diversity of content and talent is in television, which the Oscars ignore. 
It's silly to appraise the entire industry through a star-studded filter. But the demographics behind the scenes are perhaps even more telling than those on the red carpet. In December 2013, the Los Angeles Times reported that the academy  -- whose president is a black woman -- was about 93 percent white and 76 percent male. That's about 6,000 representatives of the industry. A recent study found that last year women made up 17 percent of directors, writers, producers, executive producers, editors and cinematographers on the top 250 films in the domestic box office, the same percentage as in 1998.
In "Selma" King highlights the importance of drama in shaping the narrative of the civil-rights struggle. In 2015, a row of porcelain-skinned nominees is dramatic. The leaked Sony e-mails -- including racial jokes about the U.S. president and an avowal that "in general pictures with an African American lead don't play well overseas"-- are stirring.  
"Selma is now," said rapper Common in his Golden Globes acceptance speech upon receiving the award for best original song from a movie, with John Legend, for "Glory," their song from the film. (It was also nominated for an Oscar.) 
Selma is not now. The Edmund Pettus Bridge has been crossed, and there is no turning back. Hollywood reflects as much; there are black and Hispanic and Asian and LGBT stars -- even some female executives. But a very white, very male slate of Oscar nominees is a reminder that, despite decades of real change, diversity is still not the norm in Hollywood; it's a headline-generating exception. Which is another way of saying that 50 years after Selma, other bridges are still waiting to be crossed.
This column does not necessarily reflect the opinion of Bloomberg View's editorial board or Bloomberg LP, its owners and investors.