Pope Francis, Infallible Nudger
The Pope's approach has been to act on the spirit, not the letter of Catholic doctrine.
by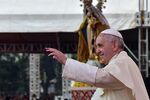 Upon returning from the Philippines, where he met former street children abandoned by indigent parents, Pope Francis has added another quote to a growing number of surprisingly liberal statements. "Some people think," he said, "That -- excuse my expression here -- that in order to be good Catholics we have to be like rabbits. No. Parenthood is about being responsible. That is clear."