Editorial Board
Obama's State of the Union Is ...
The reaction to the State of the Union address is more important than the speech itself.
by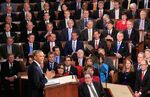 President Barack Obama's annual State of the Union addresses have been more fanciful than most. Not because he has championed colonizing distant galaxies or dispensing free ice cream, but because for the last four years half of Congress -- this year, all of it -- has been controlled by a party that has starkly different ideas about the role and purpose of government.