Erdogan's Reinvention of Turkey Isn't Funny
Turkey's President Erdogan got a lot of laughs for his new costumed honor guard. Here's why it isn't funny.
by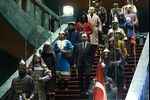 The recent photograph of Prime Minister Recep Tayyip Erdogan descending the staircase of his new palace between rows of soldiers in historic costume has been met with widespread derision, but it's part of a broad and deadly serious attempt to reinvent the Republic of Turkey.