Good News in China's Bad GDP Numbers
China just posted the slowest growth in more than two decades. Good thing, too.
by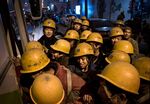 By the time a government releases gross domestic product numbers, they're ancient history. That proved true again today, after China announced its economy had expanded 7.3 percent in the fourth quarter, making 2014 growth the slowest since 1990. Within hours, attention had moved on to another figure released today: 6.8 percent.