Argentina's Murder Mystery
Prosecutor Alberto Nisman's death is an embarrassment for President Cristina Kirchner.
by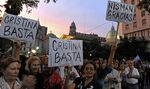 Alberto Nisman had a reputation as an independent and fearless prosecutor. That's one reason why in 2004 President Nestor Kirchner assigned him to look into the deadly 1994 bombing of a Jewish community center in Buenos Aires. The attack killed 85 people, but the investigation into the case had been languishing in the courts ever since.