Argentina, Iran and the Mysterious Death of a Prosecutor
It sounds like the opening of a Robert Ludlum novel, but it's real-life in Buenos Aires, Argentina.
by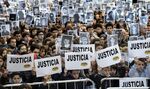 A dogged prosecutor about to present new evidence of his government's coverup of a major terrorism investigation dies of a gunshot wound in his apartment. Initial reports say it was a suicide.
It sounds like the opening of a Robert Ludlum novel, but it's real-life in Buenos Aires, Argentina.
On Sunday, authorities found the lifeless body of Alberto Nisman, who has been leading an investigation into a 1994 car-bombing that killed 85 people, at his apartment. There were no witnesses. There was a pistol next to the body, but there was no note.  
Those who knew the Argentinian prosecutor say it's hard to believe things went down like that. They point to the implausible coincidence that he died the day before he was to deliver explosive testimony against President Cristina Fernandez de Kirchner. On Monday, Nisman had said, he would present evidence to Argentina's parliament that implicated the government in a conspiracy to cover up Iran's role in the 1994 bombing of the AMIA Jewish cultural center in Buenos Aires, one of the worst terrorist attacks in Argentina's history.
Nisman just last week was giving interviews about the new charges. He claimed to have uncovered evidence from phone taps of Kirchner's allies that proved she and her foreign minister, Hector Timerman, had taken "the criminal decision to fabricate Iran's innocence to sate Argentina's commercial, political and geopolitical interests."
Then there is a report from the Daily Beast that Nisman's government-supplied, 10-person security team was not with him at the time of his death, according to first official statements. The federal police ultimately had to hire a locksmith to get inside his apartment. 
Juan Zarate, who got to know Nisman when serving in senior counter-terrorism posts for the President George W. Bush administration, said he was shocked to hear the news. "His death -- and the follow-up to his unfolding investigation -- should be investigated independently and aggressively," Zarate told me.
Matthew Levitt, a former FBI official and counterterrorism expert at the Washington Institute for Near East Policy who got to know Nisman professionally in his research into the AMIA bombing, was also shocked by the news. "I find the idea that Nisman committed suicide, extraordinarily unlikely," Levitt told me. "It's just not who he was."
Malcolm Hoenlein, the executive vice-chairman of the Conference of Presidents of Major American Jewish Organizations, told me his organization will send a letter this week to Kirchner asking her government to open a transparent investigation into Nisman's death. His request echoes similar calls from Kirchner's political opposition and Argentina's Jewish leaders.
Hoenlein added that he was also urging the president to allow the Nisman investigation to continue. "There are many questions that have to be answered," Hoenlein said. "We are hoping it will be addressed immediately and if there is an attempted coverup it will become apparent to everyone. We want to know what pressure was brought to bear on him."
One reason many are suspicious is because Nisman made an enemy of Iran, a country with a history of killing its political opponents in foreign countries. In May 2013, Nisman issued a scathing report that implicated several senior Iranian officials by name in the AMIA bombing. Just four months earlier, Kirchner's government had signed a memorandum of understanding with Iran to investigate the incident. Part of the deal, however, was that Nisman's investigators would not be allowed to interview senior Iranian officials. Argentina also got a favorable trade pact to import Iranian oil in exchange for grain. Nisman said the terms of the Iran-Argentina joint investigation amounted to a coverup.
The AMIA attack occurred in 1994, before Iran's government began trying to clean up its image with the rest of the world. It was before Iran elected its first reform government in 1997, and before Iran's current government agreed to nuclear negotiations with China, France, Germany, Russia, the U.K. and U.S.
And yet many of the senior Iranian officials Nisman named still have influence. They include Ali Fallahian, who is today a member of the regime's council of experts, the clerical body that would choose Iran's next supreme leader; Ahmad Vahidi, who served as Iran's defense minister between 2009 and 2013; and Ali Akbar Rafsanjani, the former Iranian president and a favorite interlocutor of many Western diplomats.    
No court has heard the case against these men and their role in a terrorist attack that killed 85 people and wounded more than 200. And now the man who was making the case against them is dead. The authorities say it was suicide.
This column does not necessarily reflect the opinion of Bloomberg View's editorial board or Bloomberg LP, its owners and investors.