A `Living' Constitution and the Right to Marry
A widely neglected 1987 speech by Justice Thurgood Marshall explains how social transformation can lead the Supreme Court to drastically shift its reading of the U.S. Constitution -- as it might this summer on the issue of same-sex marriage.
by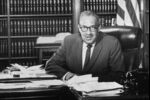 As recently as 20 years ago, it would have been pretty preposterous to argue that the U.S. Constitution requires states to recognize same-sex marriages. But there is a good chance that this summer, the Supreme Court will rule that it does.