Knicks Can't Even Get Tanking Right
The Knicks brought their hapless show to London last night, probably because the U.K. couldn't revoke their travel visas in time.
by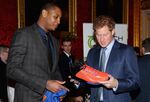 Leave it to the Knicks to somehow mess up tanking.
The New York basketball squad brought their hapless show to London last night to take on the Milwaukee Bucks, probably because the U.K. couldn't revoke their travel visas in time. It was a scheduling disaster for the National Basketball Association; the Knicks are in the middle of what will likely be the worst season in their history -- not exactly the representation you would want to promote your sport abroad. They met expectations, losing by 16 points.
It didn't take very long for the Knicks front office to realize this season was a lost cause, trading away high-cost, low-return players J.R. Smith and Iman Shumpert for virtually nothing this month in what was effectively a salary dump. With a stacked free-agent class to look forward to in the coming offseason, it was a smart move, one that could be politely described as "rebuilding" -- a fancy way of saying "tanking,"  or freeing up salary-cap space and fielding a poor team to increase the odds of better draft choices. 
Now, the team with the fifth-highest payroll in the NBA isn't exactly your typical tanker. But that's exactly what the Knicks are, a fact pretty much recognized around the league. Fans unfortunate enough to have bought Knicks season tickets, whose high prices have always seemed impervious to the dynamics of wins and losses, are scrambling to dump them on the secondary market. As Forbes's Jesse Lawrence notes, the average price for Knicks tickets on third-party sites is at a four-year low, down 17.7 percent from last season, when the team was already pretty awful. The Knicks are so bad that not even their hold on the country's largest television market can save their ratings; last week, Bloomberg reported that ESPN is dropping some Knicks games from its national broadcast schedule.
In short, everyone seems to have gotten the memo that it's best to let the 2014-15 Knicks fade away, that there's no point in keeping this team on the airwaves or in the headlines until it's ready to come back next year with some significant improvements. Everyone, that is, except Carmelo Anthony.
The Knicks star is battling a knee injury that has kept him on the bench since Dec. 31. Talk of shutting him down for the season has been circling for weeks, with Anthony admitting that surgery is "going to be my only option." Yet he still suited up for the first time in 2015 yesterday, no doubt reveling in the opportunity to showcase himself in the London spotlight at a time when the dimmer switch has been flipped in New York. (It's not a stretch to imagine Anthony being slightly envious of the attention LeBron James received during the media frenzy surrounding the Royal Family's visit to a Brooklyn Nets game.) "It's London, man," Anthony said after meeting Prince Harry, adding that there's a "big possibility" that he'll continue to play this season.
This is what happens when a player becomes a brand: the short-term prospects of raising his profile suddenly trump his long-term health outlook and the team's long-term needs. Fresh off inking a five-year, $124 million contract, Anthony has touted his business and marketing interests to anyone who will listen. "I'm trying to take my brand to the next level," Anthony told an audience at Bloomberg's Sports Business Summit in September. His off-the-court enterprises include venture capitalism and luxury watches.
You could hardly blame him for wanting to expand his public persona beyond basketball. With all the stories of formerly wealthy athletes gone broke, it's a smart move for players to parlay their playing careers into something that can sustain them after retirement. Besides, one of the major selling points that unsuccessful teams in major markets tout is the opportunity to expand one's personal brand. "We might not win as many games, but we can get you a billboard in Times Square!"
Anthony, however, would do well to remember that the backbone of his personal brand is still basketball. On some level, he seems to realize it. "At the end of the day, we all know what's my day job, which is basketball," he said at the Bloomberg the summit. "That's what my brand is built on."
So consider this a reminder, 'Melo, of your own words. Try not to get distracted by the bright lights of Peninsula Square. Try to forget that the All-Star Game will be in New York next month. Remember that an even bigger spectacle than Carmelo Anthony playing in the 2015 All-Star Game would be Carmelo Anthony playing in the 2016 NBA playoffs. Follow your team's lead of looking to the future. Shut it down, get the surgery, give yourself enough time to heal before the real show begins. In the NBA, and in New York especially, "champion" can be an even more valuable title than CEO.
This column does not necessarily reflect the opinion of Bloomberg View's editorial board or Bloomberg LP, its owners and investors.
To contact the author on this story:
Kavitha A. Davidson at kdavidson19@bloomberg.net
To contact the editor on this story:
Tobin Harshaw at tharshaw@bloomberg.net
Before it's here, it's on the Bloomberg Terminal.
LEARN MORE