It Might Be Time to Panic About Greece
There is a lot of ruin in a nation, and Greece may well pull through its latest troubles. But I told readers to watch for signs of broadening panic, and now we have one.
by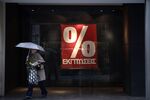 Here's something that doesn't exactly cheer the soul: Greece's Eurobank Ergasias and Alpha Bank "have requested access to an emergency cash facility run by the central bank. Both said the moves were only a precaution and that neither faced an immediate funding crunch. People familiar with the matter said the banks are seeking a few billion euros between them. The move has again evoked fears over the stability of Greece's banking system as the country lurches through another period of political uncertainty."