Defending France and Free Speech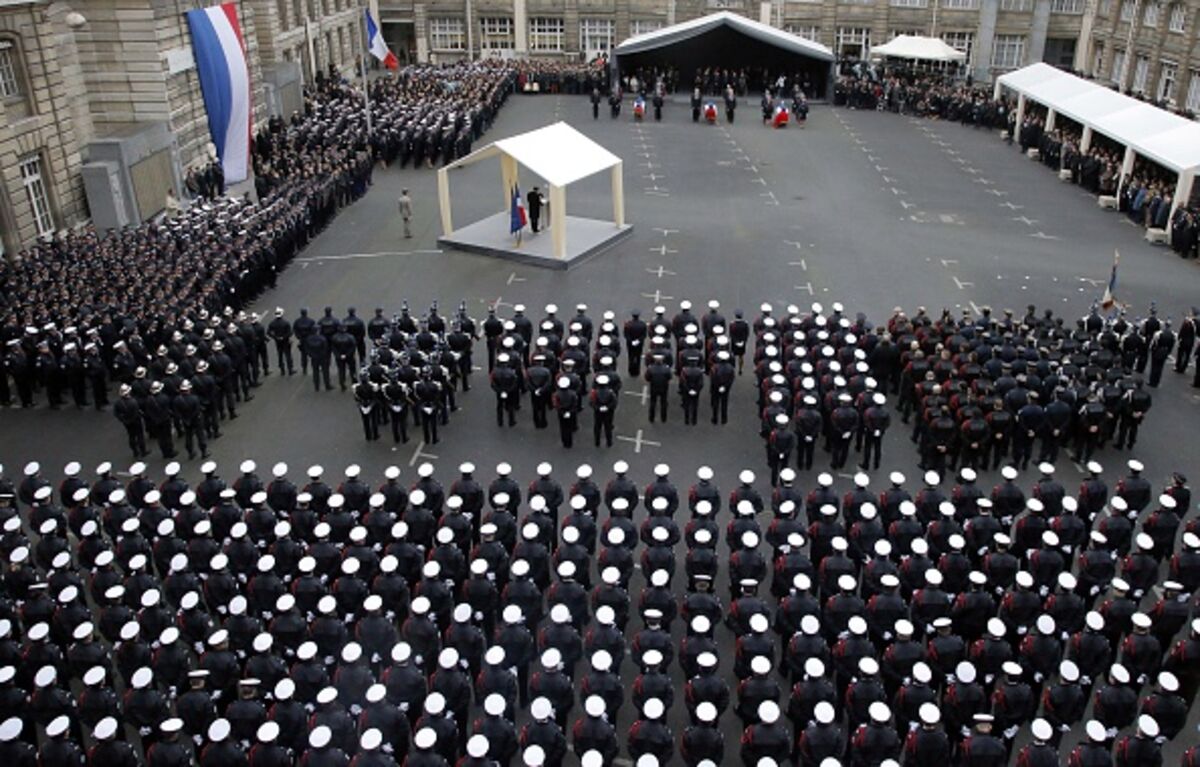 France must defend what they died for.
Photographer: FRANCOIS MORI/AFP/Getty Images
Francois Hollande, France's much-derided president, has found his voice in response to last week's terrorist attacks. Unfortunately, the French government has yet to strike the right balance.
The three police officers killed last week died defending freedom of expression, Hollande said, and "it is in the name of this liberty that we are the Republic." So France should be careful not to limit free speech, even as it prosecutes illegal hate speech.
In recent days, there has been a disturbing if predictable backlash against the outpouring of support for Charlie Hebdo, whose portrayals of the Prophet Muhammad in various humiliating poses were never popular among France's roughly 5 million Muslims. Now there is a backlash against the backlash, led by French authorities.
In schools last week, there were about 100 incidents where (mostly Muslim) students refused to take part in a minute of silence to honor the magazine's dead. Forty of these cases were referred to the police for potential prosecution, according to Education Minister Najat Vallaud-Belkacem, because the words spoken amounted to "glorifying terrorism."
What does that mean exactly? It's fair for students to ask why they may face prosecution while it's legal to publish a cartoon of the Prophet Mohammed naked with his bottom in the air, as Charlie Hebdo once did, or for a prominent French TV personality to call for deporting all Muslims. It hardly teaches the value of free speech for the nation's education minister to say it was "unacceptable" for students to ask the question, rather than respond to it.
One answer might be that France, like many European countries -- but unlike the U.S. -- prohibits speech that incites hatred against a particular person or group of people. Saying you identify with the man who killed four customers in a kosher grocery store in Paris last week, as the bigoted comedian Dieudonne M'bala M'Bala did on Facebook, might possibly qualify as illegal (though it's quite a stretch). Insulting an entire religion certainly does not.
Yet this debate only underlines that the right to free speech in France is far from absolute. It involves distinctions and choices that need to be better explained and more rigorously applied. The U.K., for example, also prohibits incitement, but it hasn't prosecuted Britons who defended last week's terrorist attacks in France far more clearly than Dieudonne did.
This is admittedly a hard tightrope to walk at a time of high emotion. And there is a difference, which Hollande and other French officials would do well to honor, between what the law should prohibit and what society should deplore. In the longer term, the best way to defend France is through a confident and evenhanded defense of the republic's values -- liberty, equality and fraternity, and the freedoms of speech and religion that underpin them.
To contact the senior editor responsible for Bloomberg View's editorials: David Shipley at davidshipley@bloomberg.net.