What Redskins and Charlie Hebdo Have in Common
It may seem like a long distance from football to terrorism, but the true meaning of free expression connects the two.
by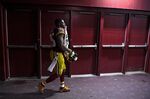 The Washington Redskins finished the season well out of the National Football League playoffs -- but the court case involving the trademark on the team's name and logo won't go away. The Department of Justice has announced that it will intervene in the latest iteration of the suit, in which the Redskins are challenging a decision by the U.S. Patent and Trademark Office denying them trademark registration.