The ECB's Thankless Task
What the central bank will confront at its Jan. 22 meeting.
by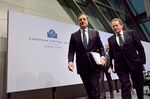 It would be hard to script a more challenging context for the European Central Bank's high-stakes policy meeting next week. In a renewed effort to stimulate economic growth and avoid damaging deflation, the central bank is poised to take unprecedented measures.
It must take into account three immediate and complicating considerations: market interest rates have already taken another meaningful step lower, the uncertainty surrounding the Greek election later this month, and the fact that many income-challenged European citizens appear in no mood to be told that higher inflation will be good for them.
On Jan. 22., ECB President Mario Draghi and his governing council colleagues are expected to agree on a new program of large-scale asset purchases, with two immediate goals: to inject more money in the economy, which would lower borrowing costs as a means of stimulating higher economic activity; and to take measures to counter the formation of (potentially self-fulfilling) expectations favoring not just "lowflation" but outright deflation.
The ECB remains, as Bank of France Governor Christian Noyer has said, the "only game in town" when it comes to responsive policy making, and it now appears willing to assume even greater reputational and legal risks to help avert a "lost decade" in Europe. But the difficulty of meeting that enormous challenge with an incomplete tool kit -- and almost single-handedly -- is compounded by circumstances.
First, market interest rates in Europe are generally very low already, raising doubts about the effectiveness of additional ECB balance-sheet operations. In fact, the moves have been so extreme as to also drag down other interest rates, including those on U.S. Treasuries. The yield on 10-year German government bond is now below 0.50 percent. In France, it has fallen to 0.66 percent. And most of the so-called peripheral euro zone countries, with the notable exception of Greece, have yields at or close to historically low levels (including Italy's 1.74 percent).
Second, the political landscape is far from accommodating. Many European countries are experiencing a rise in the popularity of non-traditional political parties whose economic policies, to the extent that they can be defined, have a distinct non-establishment tilt. In the case of Greece, which is already heavily indebted to the ECB, the central bank has to weigh whether to take on even greater payments risk before the Jan. 25 election, whose outcome is very uncertain. 
Third, the ECB is targeting higher inflation even as the average European's real income has been frustratingly stagnant. This, of course, is in the context of larger economic interactions in which even usually straightforward developments -- such as a sharp decline in oil prices that unambiguously benefits European consumers and companies -- can breed anxiety because of their potential to contribute to general deflationary forces.
All this adds up to an unfortunate situation. In today's constrained policy world, the ECB and other central banks are compelled to operate in conditions that are far from ideal. And because they carry a disproportionate share of the policy burden -- indeed, almost all of it -- central banks are under intense public scrutiny, and must pursue noble objectives with partial tools and insufficient support from other policy making entities.
If the central banks' task were an Olympic event judged by the degree of execution difficulty, they would most likely end up with admirable scores. But it is not. Central banks will be judged by their success in delivering on ambitious macroeconomic objectives with frustratingly partial means. The prospects aren't reassuring.
This column does not necessarily reflect the opinion of Bloomberg View's editorial board or Bloomberg LP, its owners and investors.