Buy the Hawks. Save the NBA.
The former players looking to buy the Atlanta Hawks may not be perfect owners. But they could heal racial divides.
by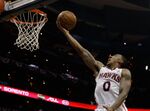 A baseball legend and two former basketball players are among the many people interested in buying the embattled Atlanta Hawks. After a string of embarrassments over race, that could help bridge the league's divides -- even if it raises other problems.