More Nominees, Faster Please
The White House takes too long to vet people for executive-branch jobs. Here's now to speed up that process.
by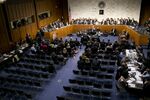 If Barack Obama really cares about an effective federal government, he could do something right now to help his successor, Democrat or Republican: streamline the presidential vetting process for executive-branch jobs.