Don't Expect a Boom From Cheap Oil
The economic gains from cheaper oil might not outweigh the losses.
by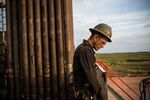 Cheap oil is a double-edged sword for diversified economies: On one hand, investment drops in the oil and gas sector, hurting jobs and the stock market; on the other hand, consumers and companies that use a lot of hydrocarbons see their costs go down. In the U.S. and in Europe, the two effects will probably cancel each other out -- as they have in the past.