Central Banking's Grand Experiment
The central banks of the three big developed economies have taken different approaches to economic recovery, with three different results.
by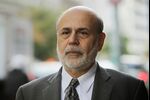 Central bankers, most of them versed in the history of the Great Depression and deflation, haven't been exactly reading from the same hymnal for the past few years. There are signs, though, that this might be changing.