Germany Gets Walloped by Its Own Austerity
Germany's Mittelstand, the SMEs that form the backbone of the economy, need the government to change economic tack.
by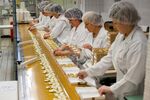 The euro region is suffering from austerity fatigue, exemplified by polls showing Greece on the verge of dumping its government for one with less enthusiasm for spending cuts. Germany has been the principal architect of fiscal rectitude and the main opponent to any relaxation of deficit rules. What's happening in the heartland of German industry, however, suggests it's not just Germany's neighbors who are threatened by its economic intransigence.
The backbone of the German economy is formed by about 3.7 million small- and medium-sized enterprises, defined as those with annual sales no greater than 50 million euros ($60 million) and known as the Mittelstand. It turns out their business environment is getting worse, they're reluctant to invest, and no matter how much cheap money the European Central Bank tries to steer their way, they're not interested in borrowing to expand.
That's the unavoidable conclusion of a report published by the German Savings Banks Association yesterday. The association polled more than 330 of the country's 416 savings banks in October, and examined more than a quarter of a million SME balance sheets.  
For German companies that did invest last year, only 19.7 percent cited "expansion" as their motivation, down from 27.5 percent in 2013 and the lowest outcome since 2010. More than half of the companies instead were replacing old machinery. Investment itself remains stagnant, stuck at about 340 billion euros or 11.7 percent of gross domestic product:
The report suggests the lack of investment appetite has nothing to do with the availability of capital:
For small and medium-sized enterprises, this weakness of investment was not due to a lack of external financing or insufficient equity. The continuing economic difficulties experienced by many partner countries in the Monetary Union as well as geopolitical crises have reinforced the wait-and-see attitude of many enterprises.
Only 16 percent of the business managers at the banks said their customers' businesses got better in 2014, less than half the number who said a year earlier that they were seeing improvements. Some 18 percent said things had gotten worse, versus just 4.6 percent in 2013. Companies in the west of Germany, which are typically the most dependent on exports, were worse hit than those in the eastern federal states, the association said.
In response, companies are retrenching. Some 46 percent of the bank respondents said they provided less investment financing for their customers last year, with just 16 percent upping their credit allocations. By contrast, more than 64 percent of companies expanded their equity bases, adding to 59 percent in both 2012 and 2013.
Capital markets don't play much of a role, with three-quarters of the survey participants convinced bank credit will remain the dominant source of financing for SMEs. As I've argued previously, the incestuous relationship between companies and their bankers inhibits risk-taking by businesses. It's a key difference between the U.S., which has functioning capital markets that foster entrepreneurship, and the more staid practice in Europe. Capital market development for the euro region, though, looks to have stalled:
The banking association lays the blame for what ails the Mittelstand squarely on the German government:
The economic policies pursued in Germany have produced few initiatives designed to boost growth and employment. Low interest rates are not enough in themselves to stimulate an upturn in investment. Positive sales and earnings expectations, as well as a stable political environment and an economic policy geared towards growth and employment, are essential preconditions.
Germany enjoyed a budget surplus of 0.3 percent of gross domestic product in 2014, the finance ministry said yesterday. Industrial output, though, slumped by 0.1 percent in November, while factory orders fell for the first time in three months. Economists predict that the German economy probably grew by just 0.2 percent in the fourth quarter of 2014.  
The ECB has all but promised that it will start buying government bonds to funnel more money into the real economy. Without a corresponding initiative on the part of the euro zone's governments to increase spending, particularly with investments in infrastructure, the central bank really is pushing on an economic string. Germany needs to change tack, stop blocking growth initiatives, and lead the region toward a strategy that will resuscitate the economy.  
This column does not necessarily reflect the opinion of Bloomberg View's editorial board or Bloomberg LP, its owners and investors.