French Government Can't Take a Joke, Either
The French authorities have arrested anti-Semitic comedian Dieudonne for a joke that wouldn't have been out of place in Charlie Hebdo.
by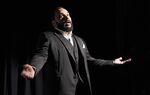 You know how the photos of dignitaries, with French President Francois Hollande and German Chancellor Angela Merkel leading an anti-terrorist march through the streets of Paris were a cynical fake, produced in a sealed-off alley, with security guards impersonating a crowd of demonstrators? Well, France's commitment to "liberte," the freedom of expression for which staffers at the satirical weekly Charlie Hebdo died, is just as phony.
Today, French police arrested the anti-Semitic comedian Dieudonne M'bala M'bala for "advocating terrorism." The charge, which carries a maximum seven-year prison sentence, is based on this (now removed) post on Dieudonne's Facebook page:

In the post, the comic sarcastically compared the Paris march (which world leaders did not really lead, as we now know) to the Big Bang or the coronation of Vercingetorix, the Gallic king defeated and executed by Caesar. And then he added, "I feel I am Charlie Coulibaly." That was word play combining the popular slogan, "Je suis Charlie," with the name of Amedy Coulibaly, who took hostages and killed four people in a kosher store in Paris.
I've written about Dieudonne, his unfunny jokes and the French authorities' overreaction to them, before. M'bala M'bala, who is of Cameroonian descent, made his name as part of a duo with Jewish comedian Elie Semoun. But his views eventually evolved toward the far right camp of Marine Le Pen -- and the French press started describing him as a "polemicist" rather than a comic.
Given Dieudonne's history, the last line of that Facebook post is actually a better-than-usual self-deprecating joke. Explaining humor is a thankless task, but it's not difficult to imagine the plight of a man who has made Jews his target, but who is heavily invested in the freedom of speech, because it's the only thing that protects him. Dieudonne's word play was a gesture at his conflicted feelings after Charlie Hebdo was attacked for insulting Jews' avowed enemies, Islamic militants.
I am Jewish, and I get the joke. That doesn't require any sympathy for Dieudonne.
French Prime Minister Manuel Valls didn't get it. Yesterday, he attacked Dieudonne in parliament as if the comedian were the one responsible for killing kosher store customers, calling on French justice to be "merciless toward the preachers of hatred." Asked why Dieudonne was a criminal and the Charlie Hebdo cartoonists were not, Valls explained that the terrorists attacked the weekly for blasphemy, which is not a crime in secular France, while hate speech is.
Valls must not have read much Charlie Hebdo. In 2012, the weekly came out with a cover calling on Mohammed Merah, the Islamist terrorist also known as the Scooter Killer, to come back from the dead and fix this crazy world. That, too, was a joke.
Like the other 53 people arrested for hate speech in France since the Paris terror attack, Dieudonne did not wield a gun -- he just typed words on a keyboard. If all those cartoons of pencils versus Kalashnikovs that proliferated after the Charlie Hebdo killings are worth anything at all, these people must be freed.
Words do not kill, and it's always the reader's or listener's choice whom to listen to. Charlie Hebdo is not a publication for radical Islamists, Christian fundamentalists or the far right. I bought Charlie Hebdo when I lived in France, but I am not a Dieudonne fan, for obvious reasons. Freedom, however, is about recognizing that, while some wouldn't touch Charlie Hebdo with a barge pole, they might flock to Dieudonne's sold-out shows.
Today, Charlie Hebdo sold out its extraordinary 3 million print run in a matter of hours. (Two million additional copies will be printed.) As we stock up on the magazine with a cartoon of the prophet Mohammed on the cover, it would be a good idea to listen to Luz, the artist who drew that cartoon. Here's what he said in a recent interview:
The symbolic actions of today are what Charlie has always worked against, to destroy symbols, remove taboos, flatten fantasies. It's great that people support us but that's contrary to what Charlie cartoons are about. The unanimity is useful to Hollande when he wants to unite the nation. It is useful to Marine Le Pen when she calls for the death penalty. Everybody can do whatever they want with symbolism in a broad sense. 
Instead of using the Charlie Hebdo attack as a pretext for a crackdown on the freedom of expression, the French government should set an example to others by repealing hate speech laws and concentrating on preventing the truly deadly attacks, those that use bullets. There are far more dangerous people around than anti-Semitic comedians.
This column does not necessarily reflect the opinion of Bloomberg View's editorial board or Bloomberg LP, its owners and investors.