An Oscar Nomination, Putin and the Truth
The off-screen fate of Andrei Zvyagintsev's movie "Leviathan" says more about modern Russia than the movie itself does.
by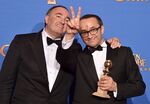 These are the days of unconventional movie-release tactics. A few weeks ago, as cinemas begged off screening "The Interview," the comedy that infuriated North Korea, Sony banked on streaming revenues. The makers of "Leviathan," the Russian film that won a Golden Globe award last weekend, went Sony one better: They watched pirates release their work on torrents and free-streaming sites, and refused to go after the perpetrators.