The Town, the Church and Free Speech
Do political signs have a higher First Amendment purpose than signs directing people to worship services?
by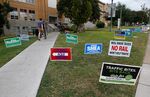 What's free speech for? There's probably no more fascinating and important question in modern American public life -- or so says this professor of the First Amendment. On Monday, the U.S. Supreme Court took a stab at it in a case about directional signs guiding worshippers to the Good News Community Church of Gilbert, Arizona. The oral argument showed how sometimes the most trivial laws can generate the most fundamental constitutional issues.