Paris Attacks Revive Israelis' Fears
For a fleeting moment, it seemed the importance of a Jewish State was obvious to everyone.
by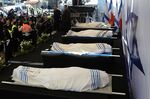 The horrors that unfolded in Paris and its outskirts last week captivated Israel no less than any other Western country, but they have played differently in the Jewish State, which knows well what it is like to have cities turned into war zones. In Israel, chilling scenes like the blood-soaked floor of the Charlie Hebdo offices unfold far too often, as they did most recently in a Jerusalem synagogue.