Why Growth Is Bad for Elizabeth Warren
Increased economic growth and rising wages are good for everyone -- except politicians who vilify Wall Street.
by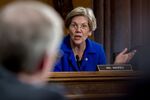 We may finally have an economic recovery worthy of the name. Perhaps we'll even see widespread wage growth in the near future. If the good news continues this year and next, we can expect President Barack Obama's approval rating to keep improving. Democrats will have a better chance of keeping the White House in 2016. And Republicans will have to find a new economic message.