Germany Is an Integration Weltmeister
Germany's efforts to integrate its Muslim community start in the school system and culminate in Angela Merkel's highly public anti-xenophobic stand.
by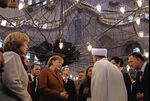 The anti-Islamic demonstration in Dresden, Germany, last night was, predictably, the biggest in the three-month-long history of the now infamous Pegida movement. Yet the 100,000 Germans who attended counter-demonstrations in other cities dwarfed the 25,000 assembled in Dresden. Europe -- and France in particular -- should look to Germany for guidance on how to integrate Muslim communities. The European Union's biggest country's record is far from perfect, but it has tried hard -- both as a nation and as a government -- to work out an acceptable solution.
For a long time, Germany was in denial about being a destination for immigrants. It had more pressing national identity issues throughout the twentieth century, even for the first few years after reunification. As Germans came together as a nation, there were xenophobic riots in some eastern cities: someone had to serve as scapegoats for disenfranchised East Germans, who had rarely seen foreigners before, much less competed with them for jobs.
It took until 2000 for the German government to acknowledge that being born in the country should be a criterion for German citizenship, alongside German ethnicity.  Then the 9/11 attacks occurred, after having been planned in part in Germany. For several years afterward, German Muslims were an object of suspicion, for the government and public alike.
The German government eventually realized Islamophobia was just as dangerous as militant Islam. "Islam is a part of Germany and Europe," Wolfgang Schaeuble, a key ally of Chancellor Angela Merkel who currently serves as finance minister in her government, told the newly-created Deutsche Islamkonferenz -- a forum for interaction between government and Muslim community-- in 2006. "It is part of our past and our future. Muslims are welcome in Germany."
Merkel's government has stuck to that line ever since. In 2010, the chancellor was widely quoted as saying the country's attempts to create a multicultural society had "utterly failed," but in the same speech, she reiterated that Islam was "part of Germany, and that doesn't just mean the footballer Mesut Oezil," the German national team's star attacking midfielder, who is of Turkish origin. Merkel's talk of "failure" referred to the practicalities of integration: the government's relative lack of success in getting immigrants to learn German, rooting out forced marriages or getting Muslim children to mingle more with kids from other cultures at school. 
In fact, the government's grip on these practicalities has been improving. According to a Migration Policy Institute report from 2013, 34 percent of Muslim kids in Germany receive the equivalent of a high school degree, compared to about 20 percent in France. Another major achievement is that 95 percent of Muslim children, both boys and girls, take part in co-ed sports at school. My 12-year-old stepdaughter goes to school in an area of Berlin with a large Muslim population, and girls wearing Muslim headscarves do indeed do physical training with the other kids. Cultural diversity is by now so normal here -- Berlin, with a 13.4 percent immigrant population, is Germany's most cosmopolitan federal state, along with Hamburg -- that nobody pays it much mind.
Schools are naturally the best place for diversity to take root in a society. Germany (unlike France) has negative natural population growth, and one-third of all children under the age of six here are first- or second-generation immigrants, compared with 20 percent of the general population. It will take time for the now-ingrained diversity in the schools to filter through to the adult world. Only about 80 percent of German Muslims, compared with 78 percent of French ones, make an income either from jobs or from their own businesses. And German Muslims are more accepting of Western ways than Germans are of theirs. According to a recent report from the Bertelsmann Stiftung, 90 percent of the Muslims living here consider democracy a good form of government, and a large minority approve of gay marriage. At the same time, 61 percent of German citizens say Islam doesn't fit in with the Western world -- up from 52 percent in 2012.
That is gradually changing, however: while 61 percent of people older than 54 feel threatened by Islam, only 39 percent of under-25s share that sense of threat. The non-discriminatory school system is doing its job. 
Ordinary Germans' powerful response to the Pegida challenge -- in Berlin, the anti-Islamic rally last night was only 400-strong, and the counter-demonstration attracted 4,000 people -- indicates that they are willing to suppress any xenophobic inclinations they might have and work on building a Germany where different cultures can coexist. Peace is practical and hatred is not, as Germans know all too well from their recent history. 
Though Merkel's center-right CDU party has a history of mild xenophobia, the chancellor is intent on squeezing it out onto the political fringe, where groups like Pegida and the anti-European Alternative fuer Deutschland party -- strong mainly in almost Muslim-free eastern regions -- now operate. She has never believed in quick results, and she's going to hemmer her point home for as long as people listen to her. Tonight, she will join a Muslim community rally in front of Berlin's Brandenburg gate, where Pegida last night failed to stage a show of strength. She has already indicated what she's going to say there, and it's her strongest integrationist message yet. Rather than repeating that Islam is "part of Germany," she emphasized yesterday that "Islam belongs to Germany." 
It is, indeed, about possession: Merkel knows she must keep the German Muslims from the grasp of Islamist radicals, and that means showing the xenophobes that they are not the German people, whatever they shout at their rallies.
This column does not necessarily reflect the opinion of Bloomberg View's editorial board or Bloomberg LP, its owners and investors.
To contact the author on this story:
Leonid Bershidsky at lbershidsky@bloomberg.net
To contact the editor on this story:
Cameron Abadi at cabadi2@bloomberg.net
Before it's here, it's on the Bloomberg Terminal.
LEARN MORE