Deflation Bells are Deafening
As the risk of deflation grows, central banks including the Fed should be wary of raising interest rates.
by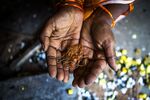 Another day, another batch of evidence that deflation is stalking the world. For those central banks thinking to raise interest rates from near zero -- notably the U.S. Federal Reserve -- such a move will be mighty hard to justify.
The Trouble with Falling Prices
Commodity prices are at their lowest since November 2002, according to the Bloomberg Commodity Index. And while the collapse in oil to below $45 a barrel has grabbed the headlines, the index tracks 26 commodities, including gold, natural gas, corn and aluminum. Copper, for one, is in a funk similar to that of crude, falling to its lowest price in more than five years. Overall commodity prices are down more than 57 percent from their 2008 peak:

It's hard to be optimistic about global growth when the prices of real things that people eat and that manufacturers use to make the stuff people buy are in freefall. At the same time, however, everyone is rightly relaxed about the prospect that inflation won't accelerate. Especially in the euro region, where the European Central Bank is poised to finally pump cash into the economy by buying government bonds, the inflation outlook has never been more benign:

In the U.K., inflation is at a record low, figures released today show. December's annual consumer price increase of 0.5 percent is stagnant enough to trigger, for the first time, a requirement that Bank of England Governor Mark Carney write to the government to explain why inflation is so far below its 2 percent target:

Also today, Japan's five-year borrowing costs fell to zero, matching those of Germany:

It wasn't supposed to be like this. Zero-interest-rate policies combined with quantitative easing were supposed to kindle a global economic recovery, fostering consumer confidence, pushing up wages and making companies optimistic enough to raise the prices of their goods and services. Instead, each new data point has revealed the likelihood of deflation, a general decline in prices that economists tell us will make everyone reluctant to spend and invest.
Commenting last week on when and how fast the Fed might raise interest rates, Richmond Fed President Jeffrey Lacker summed up the situation nicely: "Truth is, nobody knows." With global prices in a race to the bottom, though, it seems increasingly clear that policy action should come later, rather than sooner -- if it comes at all this year.