view
Washington Discovers the Middle Class
A new Democratic tax plan to help the middle class is filled with bad ideas. Maybe they'll spur Republicans to get serious.
by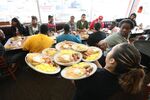 Toward the end of the 2008 presidential campaign, the statistician and political analyst Nate Silver made an astute remark: "Far more than being a 'center-right' country, this is a middle class country, and a candidate who fails to speak to the concerns of the middle class does so at his own peril."
Unless blinded by ideology, politicians in both parties usually act on that insight. And right now they're increasingly casting off their blinders.
Today, the Washington Post reports that congressional Democrats are advancing a tax reform geared toward the middle class, and the Wall Street Journal reports that Republican presidential candidates are taking a new interest in issues of upward mobility and the cost of living for middle-class families. What remains to be seen is whether this new competition will turn out well for the country, or devolve into pandering that increases the budget deficit without doing any lasting good.
The Democratic proposals are not auspicious. They include a tripling of the child-care tax credit, tax incentives for companies that raise wages, and a "paycheck bonus credit" for people who make less than $200,000 a year. Tax increases on Wall Street and corporate executives are supposed to pay for part of the cost. That's on top of other initiatives Democrats have lately unveiled, such as President Barack Obama's plan to make community college free for high school graduates.
While the Post quotes several Democrats who say they think that voters care more about economic growth than redistribution, the proposal sounds entirely redistributive. Much of it also seems likely to be ineffective. The tax incentive to boost wages does little to combat the powerful forces that have suppressed wage growth in recent years (such as rising health-care costs). The new higher-education policies mostly funnel more money to a system that does a poor job of meeting the needs of middle- and lower-income students.
The elements of the Democratic tax proposal would almost certainly poll well, but Republicans have an obvious counter to it. Senators Mike Lee and Marco Rubio have been working on a plan that cuts taxes on business investment while increasing the tax credit for children. Unlike the Democratic proposal, it seeks to help the economy grow rather than just milk it. And increasing the tax credit for children would benefit a broader range of parents, and give them more freedom over how to spend their money, than increasing the tax credit for child care.
Some conservatives have also begun to outline ideas that would do more to improve higher education than subsidies would: making colleges more answerable to parents, students and taxpayers; modifying federal aid programs so that a broader range of institutions can offer students flexible, short-term training; and enabling more competition by reforming accreditation.
Most Republicans, it's true, haven't yet embraced these sorts of ideas. Perhaps the news about what the Democrats are planning will spur them to give them the consideration they deserve.
To contact the author on this story:
Ramesh Ponnuru at rponnuru@bloomberg.net
To contact the editor on this story:
Timothy Lavin at tlavin1@bloomberg.net
Before it's here, it's on the Bloomberg Terminal.
LEARN MORE